Sheridan College Digital Product Design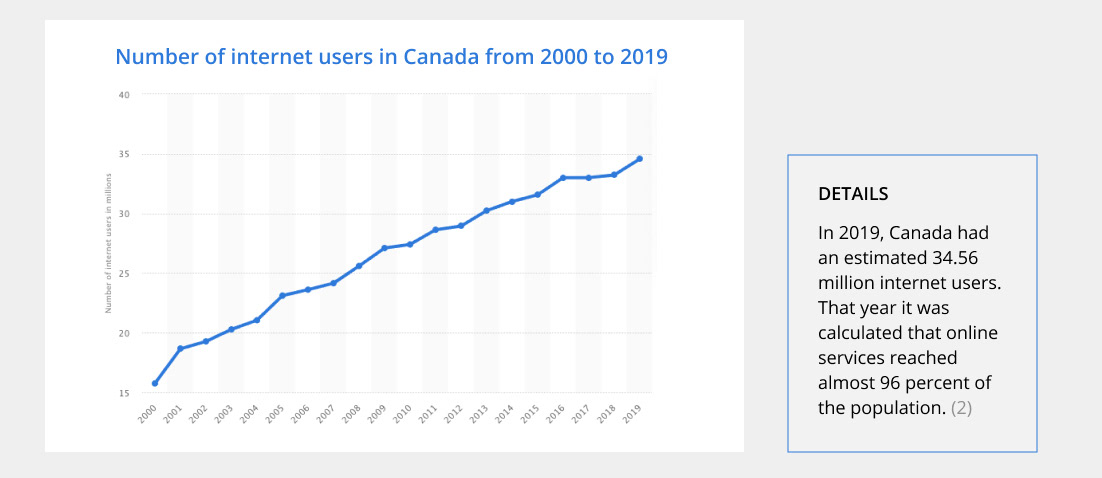 More time is spent online
With most of us stuck at home during the coronavirus pandemic it's no question that Canadians have been spending more time online.
"The average time spent online by Canadians rose by more than 30 minutes in 2020, while the number of social media users increased by 2.4 million" ~David Brown

(1)
"In terms of digital device of choice, mobile represented about 38.3% of all web pages viewed (down 11% from the year before) compared to 55.9% for laptops and desktops (up 12%)" 
~David Brown

(1)
"Over the last 3 years we have seen the penetration of the smartphone fall from a peak of 94% in 2018 to 90% in 2020." 
~Deloitte
 

(5)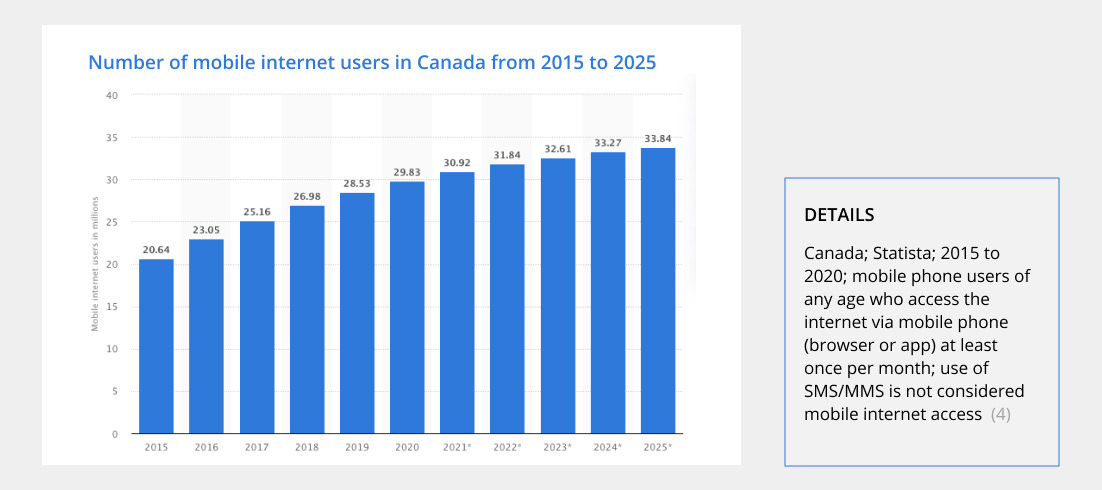 •Internet penetration in Canada stood at 94% in January 2020(3)
•The number of internet users in Canada increased by 947 thousand (+2.8%) between 2019 and 2020

(3)
Screen time is up but smartphone usage is down
• The isolation is driving users away from their smartphones and shifting to bigger screens
• Mobile phones are still more prevalent than ever but seen as different tools (a more secure one)
• Users feel more comfortable buying, banking and messaging on smaller devices
• Netflix and YouTube are seeing viewing numbers go up on their websites and noticing that viewers using their apps are reducing

(6)

While internet usage is on the rise, mobile use is decreasing.
Because people are at home due to the pandemic, they prefer devices with larger screens like laptops, tablets and tv's
The smartphone is becoming strictly a tool for banking, purchasing, messaging & gaming.
• Smartphones feel more secure than larger screens​​​​​​​
• Fewer voice calls are being made​​​​​​​
• The majority of video streaming is now on laptops, tablets or Smart TVs​​​​​​​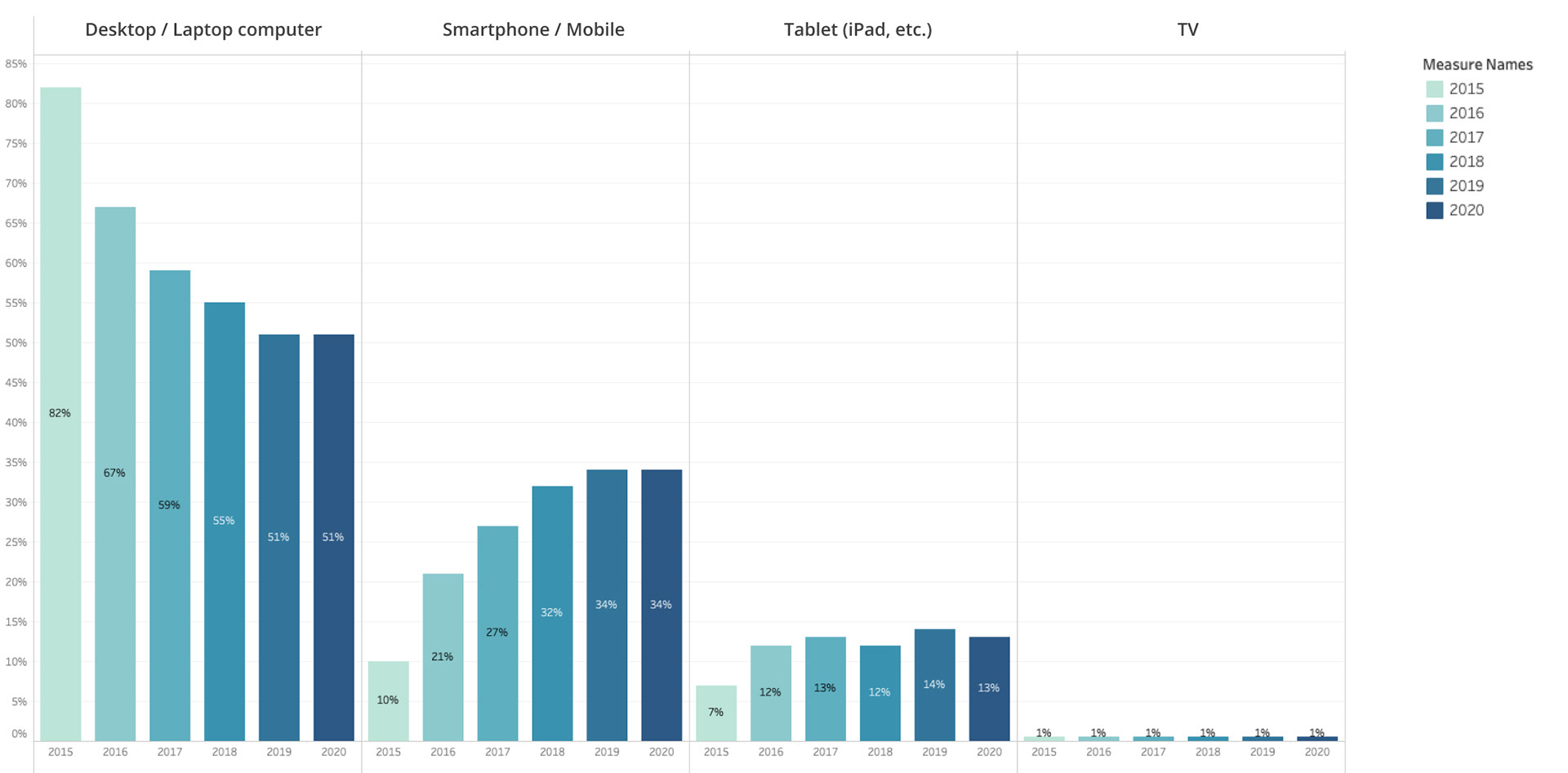 "With no immediate ability to watch content on anything but a phone screen..Quibi didn't have a grasp on what its audience might want until well after it launched."
Supporting Data & Visualizations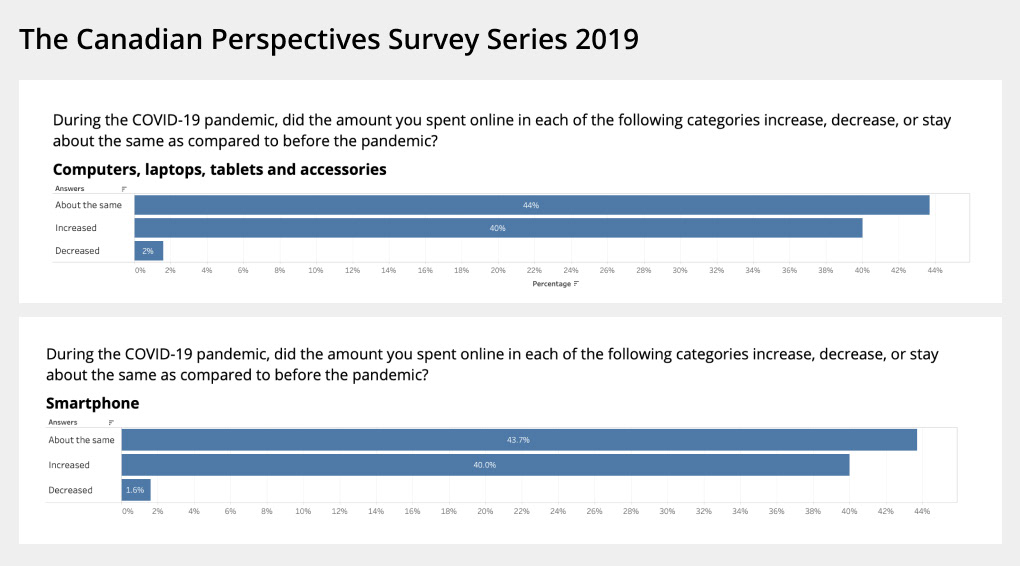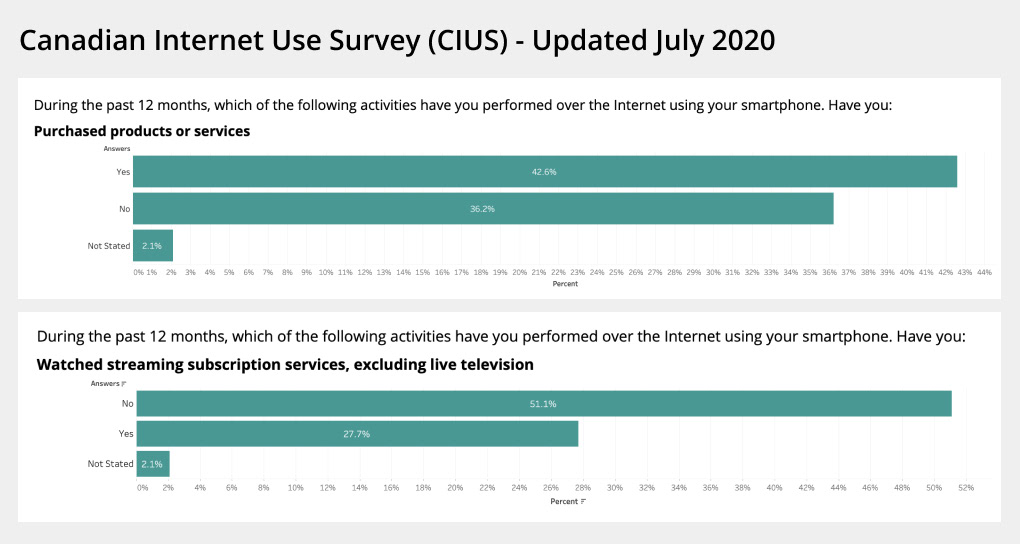 1. The Message. Canadians spent an extra half day a month online in 2020: We Are Social report https://the-message.ca/2021/02/10/canadians-spent-an-extra-half-day-a-month-online-in-2020-we-are-social-report/
2. Statista. Number of internet users in Canada from 2000 to 2019 https://www.statista.com/statistics/243808/number-of-internet-users-in-canada/
3. DataReportal. DIGITAL 2020: CANADA https://datareportal.com/reports/digital-2020-canada#:~:text=The%20number%20of%20internet%20users,at%2094%25%20in%20January%202020.
4. Statista. Number of mobile internet users in Canada from 2015 to 2025 https://www.statista.com/statistics/482507/canada-mobile-phone-internet-users/#:~:text=Canada%3A%20mobile%20internet%20users%202015%2D2025&text=In%202020%2C%20there%20were%2029.8,download%20speed%20in%20the%20country.
5. Deloitte. Digital usage & COVID-19. Digital Consumer Trends 2020 https://www2.deloitte.com/ie/en/pages/technology-media-and-telecommunications/articles/digital-consumer-trends/digital-consumer-trends-digital-usage.html
6. NY Times, 2020. The Virus Changed the Way We Internet  https://www.nytimes.com/interactive/2020/04/07/technology/coronavirus-internet-use.html

8. Yahoo!Finance, 2020 Coronavirus 'dramatically' shifts user focus from cellphones to bigger screens. https://ca.finance.yahoo.com/news/coronavirus-dramatically-shifts-user-focus-from-cellphones-to-bigger-screens-laptops-164332632.html
9. Gartner.com, 2020. Gartner Says Global Smartphone Sales Declined 20% in Second Quarter of 2020 https://www.gartner.com/en/newsroom/press-releases/2020-08-25-gartner-says-global-smartphone-sales-declined-20--in-
10. Variety.com, 2020. RIP Quibi, a Mess That Had More Talent Than It Knew What to Do With (Column) https://variety.com/2020/tv/news/quibi-canceled-shows-1234813479/